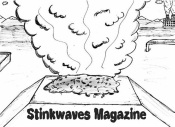 Hello fellow writers, poets, and illustrators! We are offically up and running as of Valentine's Day 2013! Thank you to everyone who has submitted during these early stages. We are already recieving some excellent poetry and artwork.
Stinkwaves would like to shoot for 70% fiction and 30% poetry and artwork, but that is up to
you!
So keep writing, edit like crazy, then submit.
Continue to check the website for updates, as the Chole-editor and myself try to keep everyone updated.
You can also check us out on Facebook!
https://www.facebook.com/#!/StinkwavesMagazine?fref=ts
Keep writing, keep submitting!
S.T.G.
(ps: and don't forget that we accept submissions from
all
ages!)