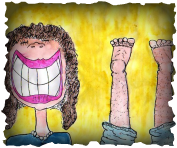 Thank you to everyone who has submitted during these first few weeks! We are so excited to start putting together our first issue of Stinkwaves Magazine!
As we work on getting our name out, we're finding it difficult to find a place for the young adult literary
magazine. We were DENIED a listing by Poets & Writers, as they informed us via email that they currently do not advertise for "young adult" but are working on it ... we will see how that goes. Currently we have a listing on Duotrope and a Facebook page. We are also waiting on a response from New Pages. It seems we are jumping in at the beginning of a great new age for the young adult literary magazines! Word of mouth is our best bet for submissions and subscriptions, so keep spreading the word!
A special thanks to Shaun Cochran, an artist friend of ours, who handed out submission fliers at the 2013 Festival of Books at the University of Arizona in Tucson, AZ.
Look for his amazing artwork in our first issue as well as at:
http://shauncochran.deviantart.com/
Keep checking the website and Facebook for updates!
Thanks again to all who have submitted and supported us during these early days!
stinkwaves magazine