Hi all!

We are excited to announce that Stinkwaves was finally able to get listed on New Pages, a fabulous site for literary mags. There are hundreds (if not thousands) of excellent lit-mags out there, and New Pages is the place to find them. Think of them as the Amazon of literary mags.

http://www.newpages.com/writers-resources/young-authors-guide

As a reminder (yes, we say it all the time--mostly on Twitter and FB), if you have some truly excellent poetry, or stories, or art work that is just sitting there collecting desktop dust...

Why not do something with it?

Don't let it sit there. Hey, go check out New Pages. You'll find us, plus a bazillion other places that will gladly take the time to read your story/poem, or check out your art work and see if it's a good fit for them. New Pages also has writing contests, you name it. It's where all the cool lit-mages go to hang out.

Keep those submission rolling in!"

We're getting some AWESOME art work! WOW!

We're loving our October Cover art from Monica Adrian!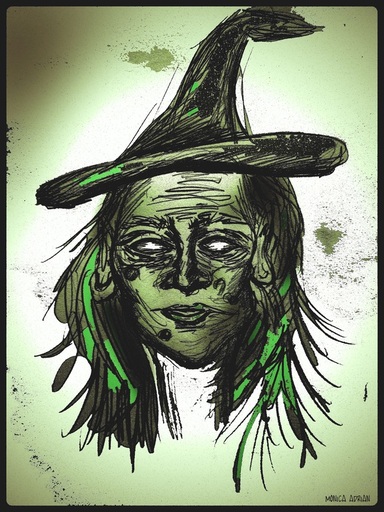 PS--the October issue is pretty stacked, but we're still on the lookout for spooky poetry, prose, and artwork. We will shoot for an early September release date, since the Halloween "season" (at least in THIS house) begins September 1st. That's close enough to October 31st. As for our 4 year old, she tells us (every day, ad nauseam) that 4 months...? It isn't too many sleeps away.

Can't wait!