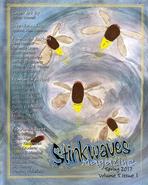 When we started Stinkwaves in the Summer of 2013, we were blown away by the positive response and the number of submissions. But as issues were released and submissions increased, we were sad to see that sales did not. We used to mail each contributor a free copy of the issue they were featured in . . . but not anymore. We used to release four issues per year, but the time commitment, and lack of sales lead us to switch to two.
It's been five years now, and unfortunately sales have still not increased, which makes us wonder, "Is there a place for a magazine like Stinkwaves?"
The Fall 2016 issue bombed, big time. And while we did have support from a number of contributors, it started to become clear, that for some, Stinkwaves was simply resume bling, so to speak. Just another place to submit a story or poem, get published, and maybe get some free editing or advice out of the deal.
We did not start Handersen Publishing and Stinkwaves Magazine to become rich and famous. Most Indie writers don't do it for the money. We are in this because we truly believe that, yes, magazines like Stinkwaves are important. In fact, they are vital, and here is why.
-Literary magazines, especially young adult, have the ability to showcase new and upcoming writers along with more established authors. In our upcoming Fall 2017 issue, there will be a short story from "The Books of Elsewhere" author, Jaqueline West, as well as a poem from Ashland High School student, Jordan Tucker. Stinkwaves often features high school students, including the Spring 2017 issue, which includes an interview with contributor and high school student, Alex Henson.
-Literary magazines offer reluctant readers challenging material, in short bursts, with lots of variety. At 100 pages, the Spring 2017 issue is our longest to date. And with 23 contributors, there is a little something for everyone.
-Stinkwaves is not only the flagship for Handersen Publishing, it is also where we met each of our authors. Sephone Zorro has been in all but one issue of Stinkwaves. We will soon be releasing Volume 2 of her short story collection, "Grandmother Stories".
We know that not everyone is quite as passionate about Stinkwaves as we are, but we hope that each of our contributors and readers are passionate about the importance of reading, and the place that literary magazine, like Stinkwaves, have.
We have a plan to increase the visibility of Stinkwaves, but we need your help!
Subscriptions are now available!
—1 year, 2 year, & 3 year
—Please, consider signing up for a subscription or donating one to your favorite school or library.
—Leave a review (Amazon, Goodreads).
—Get Stinkwaves into middle/high schools.
--
Stinkwaves has shown numerous times that it can connect with students. We just have to get it to them.
—Request Stinkwaves at your favorite bookstore or library.
—Buy a copy for a friend.
--
For a limited time, we are offering a 30% discount on orders of 5 (or more) copies of Stinkwaves (with free shipping in the continental US). Email editors@handersenpublishing.com for more details.
—If you are a contributor with a large Twitter/Facebook/blog following, let the world know about your work—or that your friend's work—was published in
Stinkwaves
.
—Promote each other!
"Best of Stinkwaves" Issue (2013-2017)
—Every three years, we will be releasing a "Best Of" issue. The first will be in 2018
—This issue will be available for individual purchase, or FREE with a 3-year subscription.
Get to a place where we can pay our contributors
—Indie authors deserve to get paid for their work. And we'd love to be able to do that. But that is not an option without sales.
—We love to hear from our contributors and fans. If you have any suggestions, please let us know. Email ideas to Senior Editor, Britteny McBride at Editor.Stinkwaves@gmail.com

If you've read this far, then we hope that you believe in Stinkwaves as much as we do, and we thank you for your support.