Britteny McBride - Senior Editor

Britteny joined the Stinkwaves team in Spring of 2017. She has been writing since the 6th grade. She has had two previous pieces of poetry published and now an upcoming children's book (2017). When she is not writing (and brainstorming new ideas to make Stinkwaves even better), she teaches High school English and spends time with her 2 boys and fiancé, Nick.
---
Tevin Hansen - Editor

Tevin has been writing since he was a wee Canadian. Now transplanted to the States, he spends all of his free time writing children's books, YA novels, skateboarding, and chasing his two children around the house while singing awful renditions of Laurie Berkner songs.
---
Nichole Hansen - Editor

Nichole is the full-time mom of two children who keep her on her toes and inspire her to stay young at heart. She has been an avid reader since childhood, and still prefers young adult books to any other out there, except maybe Jane Austen.
---
The Story of Handersen Publishing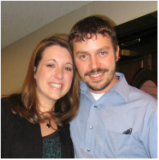 We decided to start our own literary magazine after subscribing to several of them for years and realizing...Hey, we can do this! Umm...can't we?

Our limited staff depends mostly on YOU for editing/proofing. Once you feel your work has been sufficiently edited (grammar, punctuation, style, etc.) then please go ahead and submit...if you feel it meets all the guidelines on our SUBMISSIONS page. If we like your story/poem but think it requires moderate editing, we will let you know.

We will do our absolute best to respond to all submissions as quickly as possible--from 1 day to 1 week--

In the future, we would most definitely like to pay the authors and illustrators who have made it through our editing process and have been selected for publication...but in these early stages that's just not an option!